Several weeks ago I made a
new friend
. Well, many new friends, actually. All of them super bloggers, fun women with big hearts who happen to be friends with
Mel
.
Right after I started following Kim's blog,
A Cuppa Kim
, I read about her annual Mug Swap. You know those crazy old panty exchange/mail thingies? Well, this is nothing like that. :) Thank goodness. Those things were crazy pyramid schemes at their worst. The Mug Swap was simple, fun and full of joy. You sign up for the swap, get a name to send a mug to, and then receive a mug yourself. How fun is that?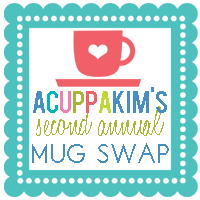 I shopped at Anthro, my go-to place for cute mugs, journals, and gifts. They have the cah-utest mugs in bright, happy colors. I sent a mug to the lovely Jessica over at
Keeping up with the Johnsons.
A perfect partner for me: she's a mom of two, church planter with a HUGE heart for people. Here's a shot of the package I sent her:
I was lucky to receive a mug from Ellen over at
Just a Work in Progress.
Teacher, traveler, lover of Jesus--need I say more? She had a cute little birdie theme going in her package of abundant love:
Being a newbie to the mug swap, I had no idea the generosity of fellow swappers. Ladies were including handmade items, hand-penned art, crafts, goodies, mug cozies. It was so fun to watch the instagram group pile up with photos day after day. I just sent Jessica a mug and my recipe for homemade chai. Next year I'll know to stick in extra goodies. :)
Thanks, Kim, for a super duper fun mug-swappin' adventure. Can't wait for next year!
What kind of swap would interest you?
Linking up over at A Cuppa Kim!!